Interview with «What the pack?»
12-08-2012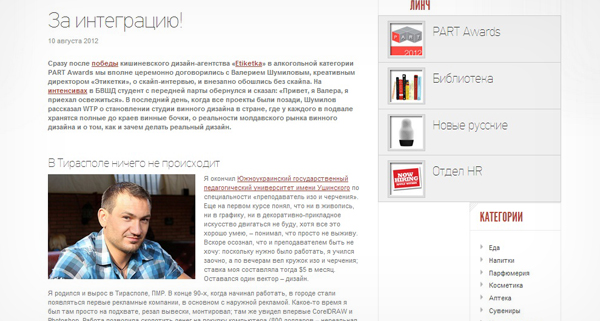 Right after the victory of the Chisinau-based design agency "Etiketka" in the alcohol category of the PART Awards, we've made an official arrangement with the agency's creative director Valerii Shumilov to have an interview over Skype. But we didn't even get to Skype. During the intensive courses provided by the British Higher School of Design a student sitting at a desk in front of me has turned around and said: "Hi, I'm Valerii, came to refresh my knowledge".
The last day, when all the projects were turned in, Valerii Shumilov has told WTP about the inception of the studio wine label design in the country, which has full wine barrels in every house cellar, about the realities of Moldovan wine label design, and about how to make a real design.
Read the full interview (in Russian)...