Interview with "THEBESTPACKAGING.RU"
04-04-2014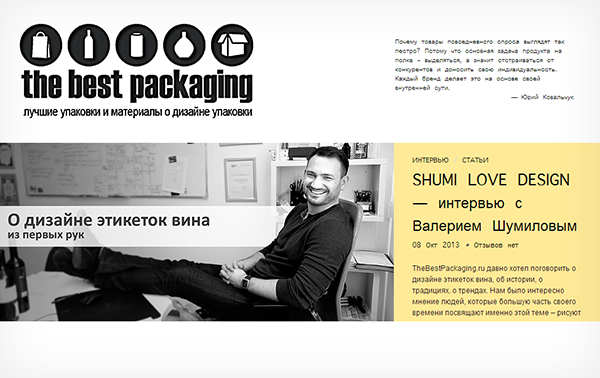 TheBestPackaging.ru have long wanted to talk about wine label design, its history, traditions and trends. And they were interested in the opinion of people who devote most of their time to this exact domain – wine labels. Who do it for different markets – European, post-Soviet and Russian.

I've taken pleasure in elaborating on such a complex topic – wine label design. Works created by Etiketka design agency, which I've been the head of for many years, have made it to this site's TOP 10 on many occasions. And it was an interesting coincidence that this interview was the first, in which I told that "Etiketka" is no more and there's a new company instead – "SHUMILOVEDESIGN"
Valerii Shumilov.
Read the full interview (in Russian)...