"Aktsiz" magazine interview
19-06-2014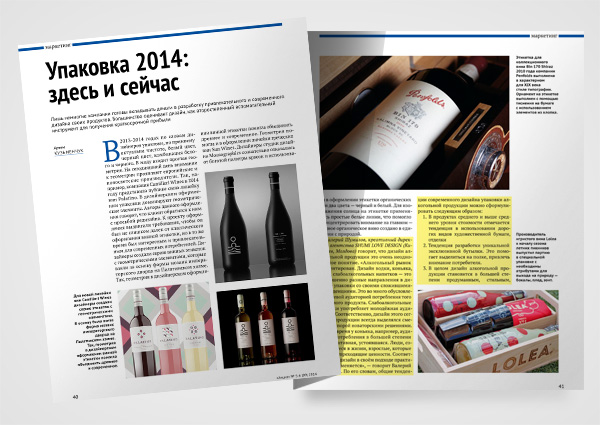 "Aktsiz": Which tendencies in the packing of alcoholic products you can outline for 2013-2014? Color, texture, style?

Valerii Shumilov: When speaking of the alcohol product design, it's important to understand that it's a very inhomogeneous notion. It's a highly segmented market. Design for vodka, brandy, wine and light alcoholic beverages – these are separate branches of packing design, each with its own traditions. This is determined by the target audience of each specific product type. Light alcoholic beverages are mainly consumed by teenagers. Respectively, the design in this particular segment always stood out with originality and innovative solutions. At the same time, brandy, for example, has a very conservative and settled audience. Established people who enjoy persistent values. Respectively, the design in its core remains virtually unchanged. The general trends can be outlined as follows:
1. Mid-range and upper-mid-range products show a tendency in using expensive types of artistic paper, finishing.
2. The tendency of designing a unique exclusive bottle. This helps to make the product stand out on the shelf, attract the buyer's attention.
3. In general, alcoholic product design is gradually becoming more thoughtful, stylish, temperate. I would note the departure from vivid colors, excessively bright solutions, a high quantity of "gold" in the decor.

"Aktsiz": Did the popularity of the "retro" style in food products reflect in the alcoholic product packing?

Valerii Shumilov: With alcoholic products every category has its own examples of "retro" style. Vodka, brandy, beer – they all have it. And it doesn't have a global character. However, in every category this style has its own client, its own audience. The better-known examples of this style are: "Zelionaya Marka" vodka, "Jiguli" beer, "Yujniy Bereg " brandy. The alcoholic product design transmits ideas that are different from those communicated by food product design. Food products in essence are family, health and safety. This is what the design communicates. What is alcohol?) I would say that alcohol design communicates 2 main categories of ideas. First: fun, party, adventure. Second: calm evening with loved one, good company, friendly conversation. Respectively, the design transmits one or the other. When speaking of fun – the ideas of ecology or nostalgia are not that important. When speaking of heartfulness – the concept of product's purity, its ecology and nostalgia come front in the product's design.

"Aktsiz": Is there a prospect for "eco-friendly" alcoholic product packages to become widespread in Ukraine, which would decrease the damage to the environment delivered by the industry? Can it be done by an Ukrainian designer and is the Ukrainian consumer ready for such packaging?

Valerii Shumilov: I wouldn't speak only about Ukraine. This question is relevant for all countries, including Ukraine. It's crucial to understand that the design doesn't create a design on its own. The design is always applicable to something specific. Demand, market, product. When the market's demand for eco-friendly types of packing will become high enough – then we'll see respective designs. Today creating such packing is purely an individual work with no application. There's no demand, so there are no investors ready to translate such ideas into real products. The design always acts depending on the client's financial ability to embody the idea. I think that the traditional alcoholic product design will always be there. There's something magical about opening a bottle, sniffing the cork's aroma, enjoy the flavor of a mature wine. But at the same time, there will definitely be products of mass consumption where such nuances will be irrelevant. Where it will be more important to make the product faster, cheaper and more compact. With such parameters alcoholic products will be sold in uniform packets produced from eco-friendly plastic that will fully decompose in nature.

"Aktsiz": In the conditions of a declining purchasing activity the producers are looking for ways to make packaging cheaper. How can design solutions help to reduce the costs of product packaging?

Valerii Shumilov: It's crucial to understand that not all producers are looking for such opportunities. There are products where a cheap package will insult the buyer. It is common for premium class products. But when speaking of mass market – yes, the producer is trying to reduce the costs here. Usually, the design for such products excludes any kind of exquisiteness. If the design has a good idea that can be embodied in a minimal amount of graphic elements, and the audience will love it – then the design will be cheap. However, design approval is a formula with many unknowns. Designer's experience and qualification, client's understanding and overall taste, market and client demand – these are just a few factors that affect the design approval directly. In other words, it doesn't depend solely on the designer. His zone of responsibility is about 30%, not more.