Valerii Shumilov: A'Design Award, design for design's sake and the appreciation system for design projects.
11-07-2016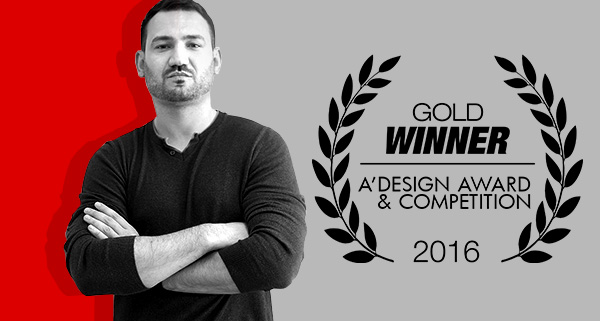 Taking part in the international A'Design Award & Competition is a good enough cause to talk design with Shumi Love Design design agency's creative director, Valerii Shumilov. We think that a successful participation in such events can give plenty food for thought to everyone in the industry, from hardcore professionals to occasional readers and appreciators. In this interview Valerii shares his thoughts on the contest itself, the appreciation system of design projects and why such contests should be separated into professional and amateur categories.
Valerii, your agency takes part in the competition for the third time. What are your overall impressions regarding the A'Design Award?
In general, the impressions are very positive. The contest organizers are real professionals. They are very outgoing and ready to help you at any stage of the contest.
This year all five projects sent to the contest were awarded with medals. What are you feelings regarding this?
Of course, in my opinion, I've sent the best projects the agency had. However, I was rather surprised when the results were announced. The projects, which I thought to be stronger and more successful from the marketing perspective, were awarded with lower awards. Yet, I think that all of my projects deserve the highest ranking! /laughs/
It's interesting to note the difference in the appreciation of design projects from the perspective of authors, consumers and professional critics, don't you agree?
Of course! The design project appreciation system is an important and sensitive topic. I won't mention other domains of design such as industrial or urban design, since there are over 80 design categories presented at the A'Design Award. I want to talk about packing design – the actual category I'm presenting my works at this competition.
So, packing design is more multi-faceted, complex and deeper that may seem at a glance. Quite often this isn't fully comprehended not only by consumers and clients, but by the designers themselves.
Because there's no precise way of appreciating the design's success and relevance, it's quite often that we see the jury appreciating very unequal projects. For example, the panel will be equally judging a "creative" concept design made by a student only as a virtual presentations alongside with a big project made by a large agency, which devoted time and resources to launching the product on the market, persuading the clients, analyzing the market, taking into account the psychology of the target audience, the current market situation and so on.
But anyone can take part in such a competition, whether a student or a big agency, right?
In my opinion there has to be a very strict division between purely creative contests, where it's all about design in its pure form, and strictly professional contests with participant accreditation, which will showcase only professional designers with realized project that are already present on the market.
In other words, my way of appreciating a design's success is seeing the increase in sales of my client. Such a design is very different from the simple "creative" design.
Can you tell us more about the award ceremony?
The award ceremony is always a feast. In different years it takes place in different amazing locations, but always at Lake Como, near Switzerland. The gala night is always hosted in old mannors with amazing interiors decorated by the works of painting masters. Every time it's a feast that's so pleasant to be a part of.
Any word of advice to share with designers and agencies that are looking forward to taking part in the A'Design Award & Competition?
The main thing about such competitions is that it's always a great boost for any agency or designer. You start using your creative resources to the max, so it's always a great professional stimulation.
My main advice, I think, is that you don't have to be afraid. Strive, try! From the professional perspective taking part and possibly winning in such a contest is a very important step in your professional development. It's a possibility to tell the world about yourself. To make sure that you're qualified and have reached a higher level with your works.