Interview for the industry portal UniPack.
21-01-2013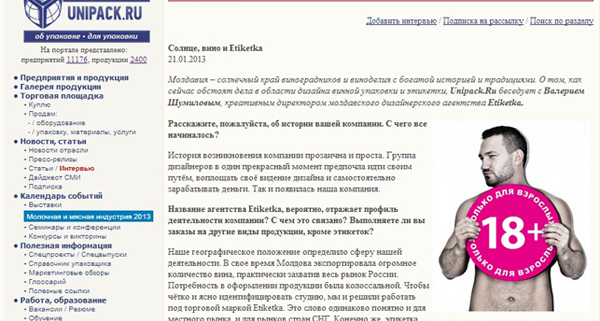 Interview for the industru portal UniPack given by Valerii Shumilov during the active phase of the Etiketka design agency. A lot has changed since then, Etiketka was dismissed and its place was taken by its successor - SHUMI LOVE DESIGN (TM). However, the facts, principles and views outlined in this interview are valid until now, strongly influecing the activities of the new agency.
Sun, wine and Etiketka
Moldova – a sunny country of vineyards and winemakers with rich history and traditions. To learn how the wine packing and label business is at the moment, Unipack.Ru has recently spoken with Valerii Shumilov, the creative director of the Moldovan design agency Etiketka:
Tell us about the history of your company. Where did it all start from?
The history behind the company is actually very simple. A group of designers has decided to go in its own direction at a given moment, to implements its own vision of design and earn money independently. That's how our agency was created.
The name Etiketka ("label" in Russian) probably reflects the company's field of activity? What's it all about? Do you do projects other than wine labels?
Our geographic location has predefined our field of activity. Some time ago Moldova had a very heavy export of wines, in fact taking over the market in Russia. The demand for product packaging was enormous. In order to clearly identify the studio we've started working under the Etiketka moniker. This word is well understood both by the local market and other post-Soviet markets as well. But of course, label as a form of packing, isn't the agency's only field of activity. We've had our share of developing trademarks, identity, packing, interiors and exhibition stands for winemaking companies. As time passed we've also attracted clients from other business branches. But the name stayed since it reflected the type of work we usually do.
What's your evaluation of the Moldovan and CIS market? What are the peculiarities of Moldovan wine label market? How fierce is the competition?
The main peculiarity of the label market in Moldova is the fact that it was here where the bulk of wine brands, identity and package was developed back in the day. There are a few reasons for that. Historically, since the days of the Soviet Union, Moldova was the place where nearly all wine labels were made. We have a rich heritage and school of it. Another reason – mentality. The southern temper, sun and wine – all of the factors necessary for reflecting flawlessly the essence of this product. Russians, on the other hand, have a very strong design for strong alcoholic beverages (like vodka) and light beverages (like beer). It reflects the cultural strata, traditions and preferences. We have a better understanding of different things. As for the competition, I think that each agency has its own niche to fill. Each agency is made up of real people, professionals, artists with backgrounds, their own tastes and styles of execution. So each agency has its own distinct "taste". And it's up to the client to choose the one that works best for him.
Which are, in your own vision, the main competitive advantages of your agency?
One of the main advantages of our agency is that it's headed by designers. This allows us to locate the fine line between our design vision and the economic aspects of the business. Another advantage – the constant professional growth of workers, expansion of their knowledge and skills in different fields linked to design, such as marketing, branding and promotion. And another thing – we aren't a full-circle advertising agency, so we don't get immersed with large amounts of work associated with the corporate support of large clients. We are a workshop of live creativity, great design and fresh ideas. So if you need "pure creativity" – you're in the right place!
When creating new labels and package, which printing and post-printing techniques define your work? Do you always have quality equipment available on the local market?
When working on a design we naturally foresee the entire technological process. During the agency's active period we've accumulated a lot of experience working with various printing houses all over the world. Right now we're keeping track of the latest techniques and trends in the printing industry. But it's important to not overuse them. Having all the possible techniques at our disposal doesn't imply that they all will be used on the same label. Moderately, in the right place, to the point and delicately – this is our credo when it comes to selecting printing and post-printing techniques. The local market doesn't always have the necessary technologies or their quality may be unsatisfactory. That's why our works are often printed abroad.
What can you tell us about your team? Do you use the work of freelancers?
Our team is a small collective of strong professionals. The people were chosen over the years and we strive to create a cozy and creative atmosphere, which would be comfortable for us. The projects executed by the agency. The projects executed by the agency are often large and voluminous. So we often outsource various professionals such as photographers, illustrators and copywriters.
What can make you refuse a profitable commission?
An inadequate attitude of the client towards our collaboration. We accept only partnership relations, in which the agency and the client both act as affiliated entities, as a team that wants to reach the same goal – achieving a high quality result in fulfilling a commercially successful project. All other forms of cooperation are excluded, since each of our solutions is substantiated and proven. I can surely say that our presentations are strong both as strong designs and their conformity to client's marketing needs.
How do you assess the prospects of your business?
Right now the agency is gaining momentum, trying out new spheres such as PR and marketing. This allows us to proclaim our transformation into a branding agency. Because of this I tend to assess our prospects favorably, as strong professionals in the field of brand creation and promotion are in a rapidly growing demand.
Source - Unipack.Ru