Interview with the info-portal ALLMOLDOVA.COM
22-10-2012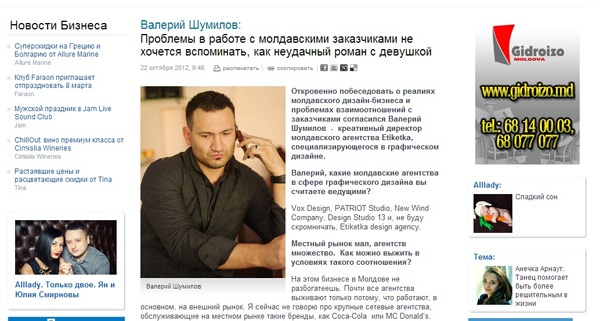 To talk explicitly about the reality behind the Moldovan design business and the problems associated with local clients, we've approached Valerii Shumilov – the creative director of агентств SHUMI LOVE DESIGN (TM) specialized in graphic design.
Valerii, which graphic design agencies in Moldova you consider to be the leading in the industry?
Vox Design, PATRIOT Studio, New Wind Company, Design Studio 13 and, without being overmodest, SHUMI LOVE DESIGN (TM).
The local market is small, yet there are a lot of agencies. How can one survive with such a balance?
You can't earn much in this business in Moldova. Nearly all agencies survive because they mainly work for the external market. I'm not talking about the large agencies, which service such big brands as Coca-Cola or MC Donald's...
Read the rest at AllMoldova (in Russian)