Educational seminar "Saturday STORM"
11-09-2013
The Austrian cultural society KulturKontakt Austria represented by Fabian Mayer has approached me for developing a corporate logo for the governmental educational project "Firma de Exercitiu" (Training Firm) in the Republic of Moldova.
"Firma de Exercitiu" (Training Firm) is an international project representing a separate subject in the college education system. This subject teaches students the basics of office work, business, how to select their specialization, to be qualified professionals in their field of activity. In essence it is a global platform with its own currency, juridical institutions, services and goods, which creates the opportunity for students to learn how to create and manage their own enterprises.
During the logo development stage for this governmental project we came up with an idea to organize an educational seminar that would involve the most active participants of the project.
I was attracted by the following perspective: to show the students what a design agency's work is all about. To show them how the ideas that are developed in collaboration get embodied in the final logo.
First, we made an introduction by telling what is a design agency, what kind of services it provides, how it functions, how the orders are received, how the briefs are made and so on.

The main part of the seminar was the brainstorming process for generating creative ideas. As a result we've drawn a map of associations, which has determined three main creative directions.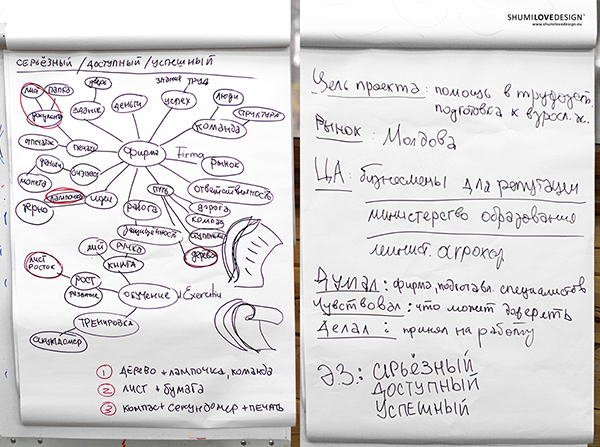 All the students were divided into three groups. Each group had to sketch all the ideas they came up with according to one of the creative directions. On our part, we were helping the students in creating the sketches and finding better graphic solutions.
Here are some of the graphic solutions, which were further used as the basis for the developed logo.

People who have contributed to the seminar organization:
Irina Strashic - agency's lead designer
Vitalya Podolean - PR manager
Alexander Vladimirov - representative of http://svetlitsa.eu/
Naming, identity and material design:

The thanksgiving letter from the Austrian Cultural Society KulturKontakt Austria:

Agency as the partner in organizing and executing the seminar:

The approved corporate identity for "Firma De Exercitiu":