IMPAKS / printing house / RIGA
02-10-2013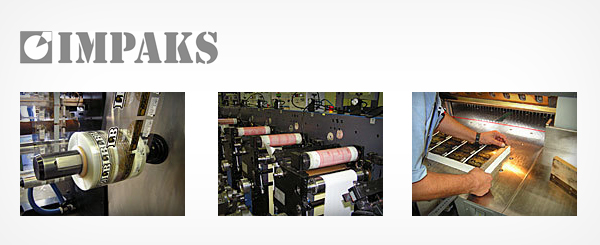 Impaks Ltd are a European market leader in the printing and manufacture of self-adhesive labels, that recognises that continual investment in both people and technology are key elements to our success. The company was established in 1998, where we have experienced exceptional growth, mainly due to our focus on supplying quality products and by listening and reacting to our customers requirements. We take pride in our professional approach to provide outstanding quality that is maintained throughout our business. Our friendly and professional service is always on hand to react to customer requests, where we believe in providing the highest service possible.


Quality Materials …..
Quality Printing …….
Quality Service …….
At Competitive prices …..

Impaks have a dedicated, highly trained team who are rigorous, have an eye for detail and are effective at implementing the quality control systems that are in place to maintain the quality you expect. When quality and service is of paramount importance, our customers place their trust in Impaks. Impaks work with a range of customers from blue chip to medium and small sized businesses across Europe. These customers include Latvijas Balzams JSC, Philips JSC, Daugava ltd, Kesko foods etc. Imapks operate with fully accredited ISO 9001:2000, ISO 14001:2004 certification.
Platinum A' Design Award Winnerfor Packaging Design Category in 2012, Italy, Milan

PART AWARDS, "Design of the Year" 2012, Russia, Moscow
Другие работы агентства, отпечатанные в типографии "IMPAKS":