THEBESTPACKAGING.RU — INTERVIEW WITH VALERI SHUMILOV
08-10-2013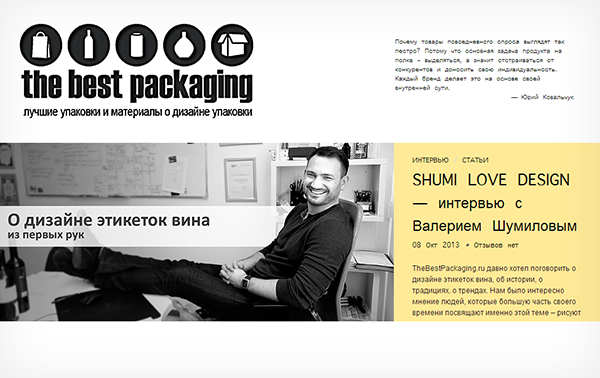 TheBestPackaging.ru have wanted to discuss wine label design, history, traditions and trends. They were interested in the opinion of people who spend a lot of time in this domain – wine label. And who are doing it for various markets – European, post-Soviet and Russian, of course.

I've taken pleasure in discussing such a complex topic – wine label design. The works created by the "Etiketka" agency, which I lead for many years, have made it to the TOP 10 of this site many times. And so it happened that this particular interview was the first, in which I told the public that "Etiketka" is no more, replaced by a new company – «SHUMILOVEDESIGN»
Valeri Shumilov
Read the full interview in Russian...